Latest News
EB gets a new webpage!
We gave the webpage a new facelift! Let us know what you think. We kept the web store up on limitedrun since we can adjust the shipping options to keep mail prices as low as we can.   Also when looking over the new site, if you noticed your photography being used, let us know so we can give you proper photo credit.
Thank You
---
The Q Factor Discography preorders!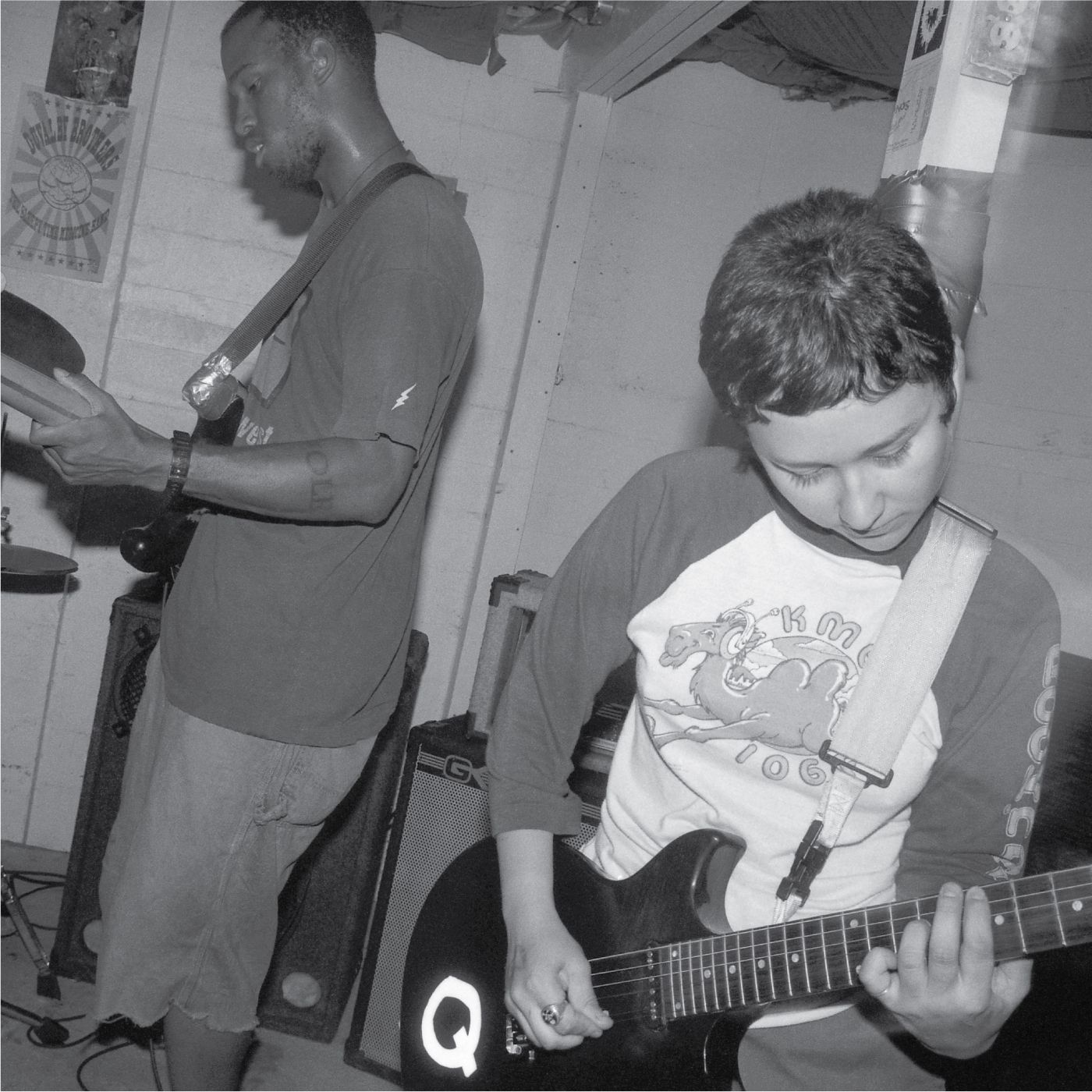 EB12-0523   CS-1003

THE Q FACTOR came out taking full swings with heartfelt youth anthems. Mid 90s. Living out of bay area/LA. Amidst a scene that seemed undecided on what the "positivity" they were singing about meant, The Q Factor championed shit that matters: politics of race, gender, nationality, sexuality, class, environment, love, etc. A refreshing clarity and sincerity in their lyrics, sounds, imagery, and lived ethics.
"To take a stand, it's gotta be your own feet, not the prepackaged newly improved ones they want you to buy. Stand up for yourself." —Stand up in the Name of Archibald Tuttle, The Q Factor.
Members went on to be in the bands Esperanza, Former Members of Alfonsin, Bread and Circuits and Please Inform the Captain This is a Highjack. 
Preorders up now!
*LP Purchase comes with instant download 
**Ships mid to late March
The Q Factor was: Jake Hockel - Drums, Max Frixione - Guitar, Mona Martinez - Guitar, Chuck Shackelford - Bass, Nathan Apperson - Bass, Butch Bowen - Vocals
Mastered by Will Killingsworth
A few updates and news from EB. January will be the start for some new releases…3 to be exact that we'll be sending off to the plant. One of those will finally be the Interlocked LP. 1991-1992 Boyle Heights straight edge. This is exactly the reason we started the Curatorial Sound Series…for bands like this who's story needs to be told and documented. This will be a split release with @advancedperspective
April we'll see the release of the Vacancy 12". There will also be a small repress of the Jade Dust 12" coming soon for those who missed out on the first press.
We also updated our site with new releases from Asesinato and Diztort on Advanced Perspective. We have copies of the Demand demo tapes and copies of the Sin Orden anthology LP which includes all their early comp tracks and their 1st 7" which to us should be considered a classic Chicago hardcore record.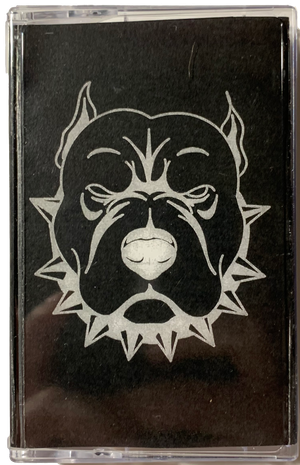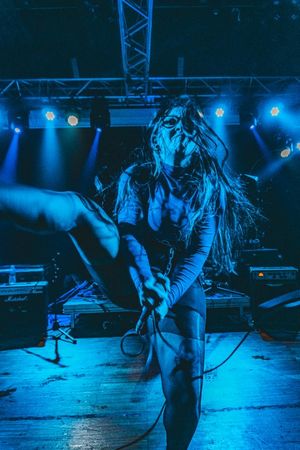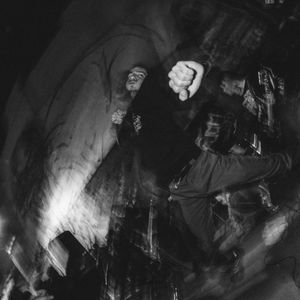 We want to take the time to welcome three new bands to the Extinction Burst family. Demand is a band from Washington DC who play a style of hardcore somewhere between Beyond and Born Against. The band has members of…who gives a shit, just believe us when we say this stands on its own. We are excited to be working with them on their debut release. We will be working with Hatã and Baixa Permanent from Spain on the U.S. pressing of their split e.p. Both bands play their own interpretations of hardcore drawing influence from the sounds of early NYC hardcore and South American punk. To read more on them they have pages up on our website. Link is in bio.
Lastly, we have copies of the Mi Cumpleaños: My Birthday - Childrens Book. Written by Juan Carlos Gonzalez, a resident of San Bernardino who started his own children's book publishing project called @el_barrio_publishing . Illustrated by Caylin Yorba Ruiz @caylin.perry a resident of Victorville and a graduate of the UCR arts program who dedicates her work on helping survivors of assault and abuse.
Thank you for taking the time to read this. We know it's a long one!
---
Jade Dust full set up now
Full Jade Dust video is now streaming thanks to Vanguardist Media!
---
Heartthrob demo 1 & 2 out now!
Heartthrob demos 1 & 2 is 10 tracks of emotionally scarred lyrics, upbeat drumming and enough melody to put in a music box. Originally the brain child of Cesar Marquez, Victorville's Heartthrob was manifested out of a broken heart and sleepless nights. This is sad foo music for sad foo nights.
FFO The Ergs, Kid Dynamite and anything dramatic                                            
Cesar Marquez - Guitar/Vocals
Brad Racine - Drums
Chad Zappia - Guitar
Chuy Ceballos - Bass
released December 14, 2021

Engineered, mixed and mastered by Brad Racine at Local Man Studios.
Artwork by Taylor Soul
Photos by Danny Mathews @jpg4you
click cover for purchase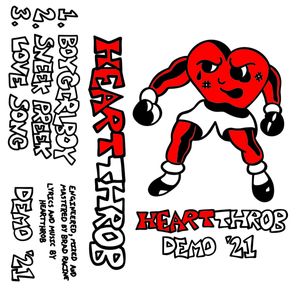 ---
Jade Dust, In Time and end of the year announcements
Over this past weekend, EB family Jade Dust and In time had shows.  On December 3rd, Jade Dust played their first show in Portland, OR with FAIM, CHANGE and ENACT at the Brightside Social Club, and followed it up with their second show on December 4th in Tacoma, WA.  It took a minute for their s/t 12" to arrive but we couldn't be happier with the results.  Six melody and urgent driven hardcore tracks cut at 45rpm to give it the full balanced sound that this recording deserves.  Recorded by Stan Wright at The Map Room Studios, mastered by Don Zientara at Inner Ear studios and cover art by Eric Himle, we couldn't have asked for a better rounded release! Blue vinyl is SOLD OUT but there is about 100 copies left on black.  In Time are currently writing for their debut 7" on Extinction Burst.  They will be touring the west coast in January and they will have a small amount of their demos with them.  This will be the last batch of tapes we do for this release so make sure you pick one up at one of their shows.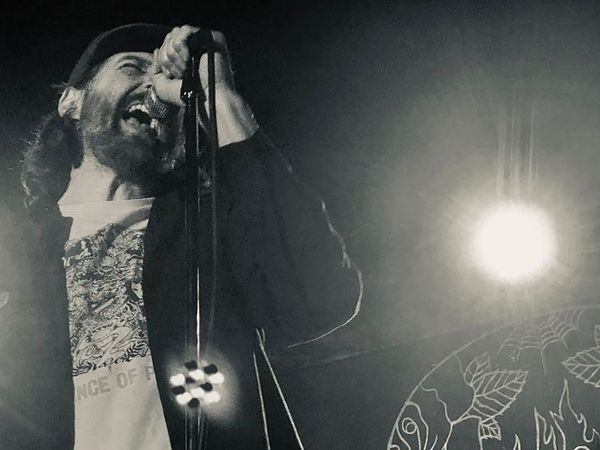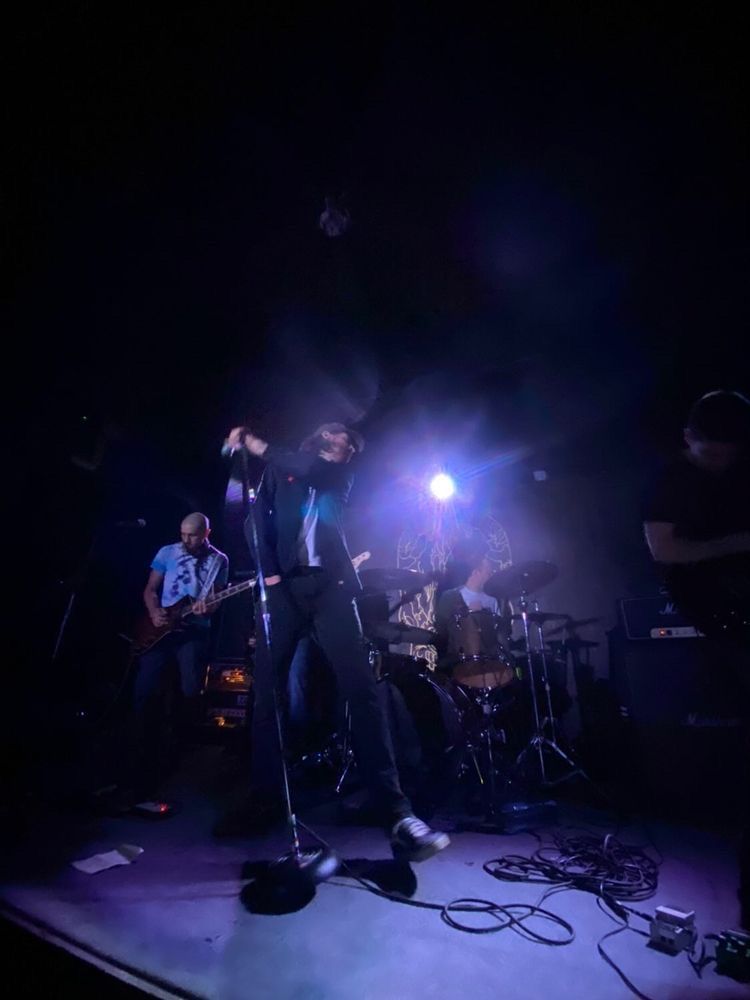 Video by Bothgunsblazing
Jade Dust photos by Augustus Bowman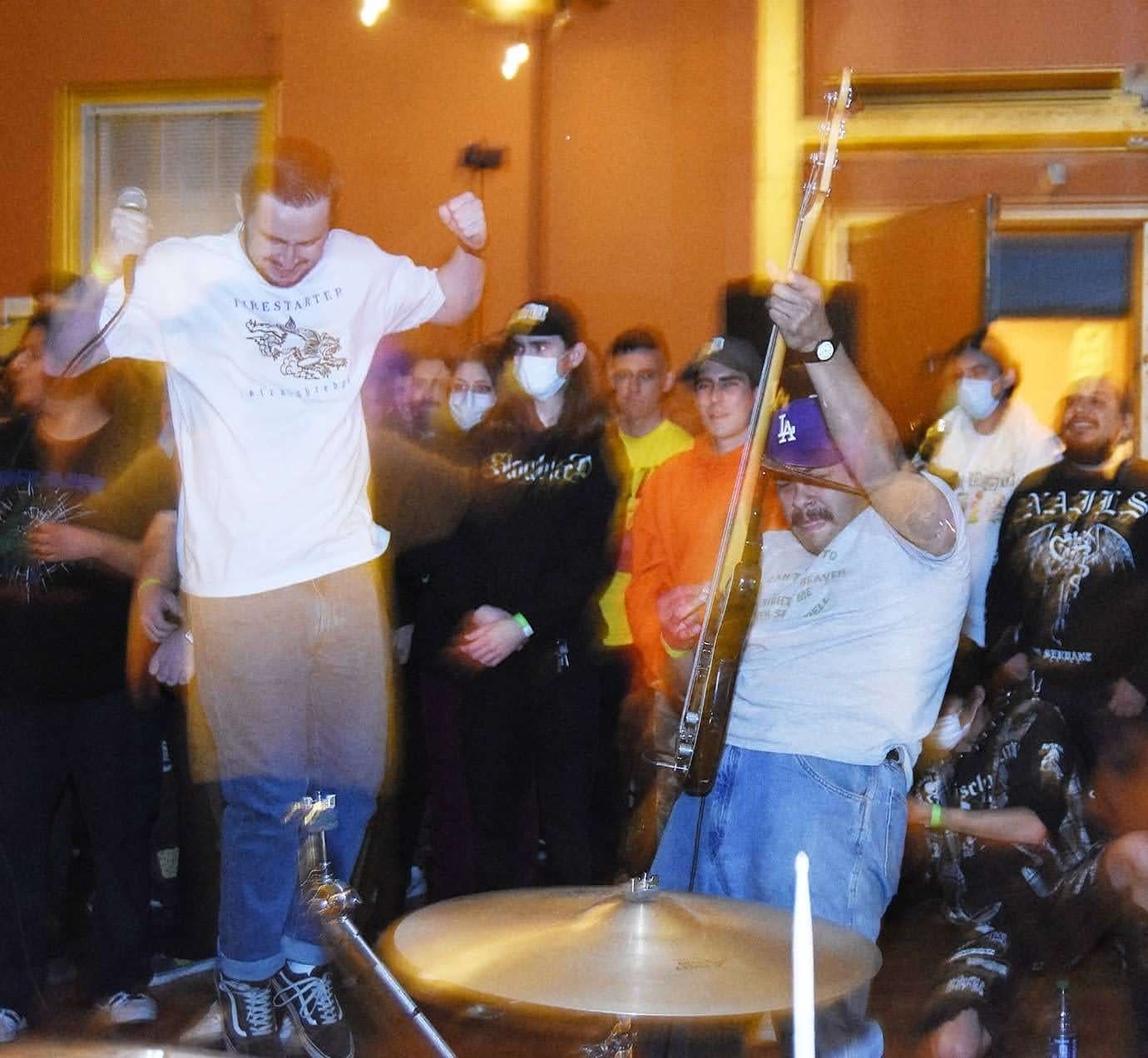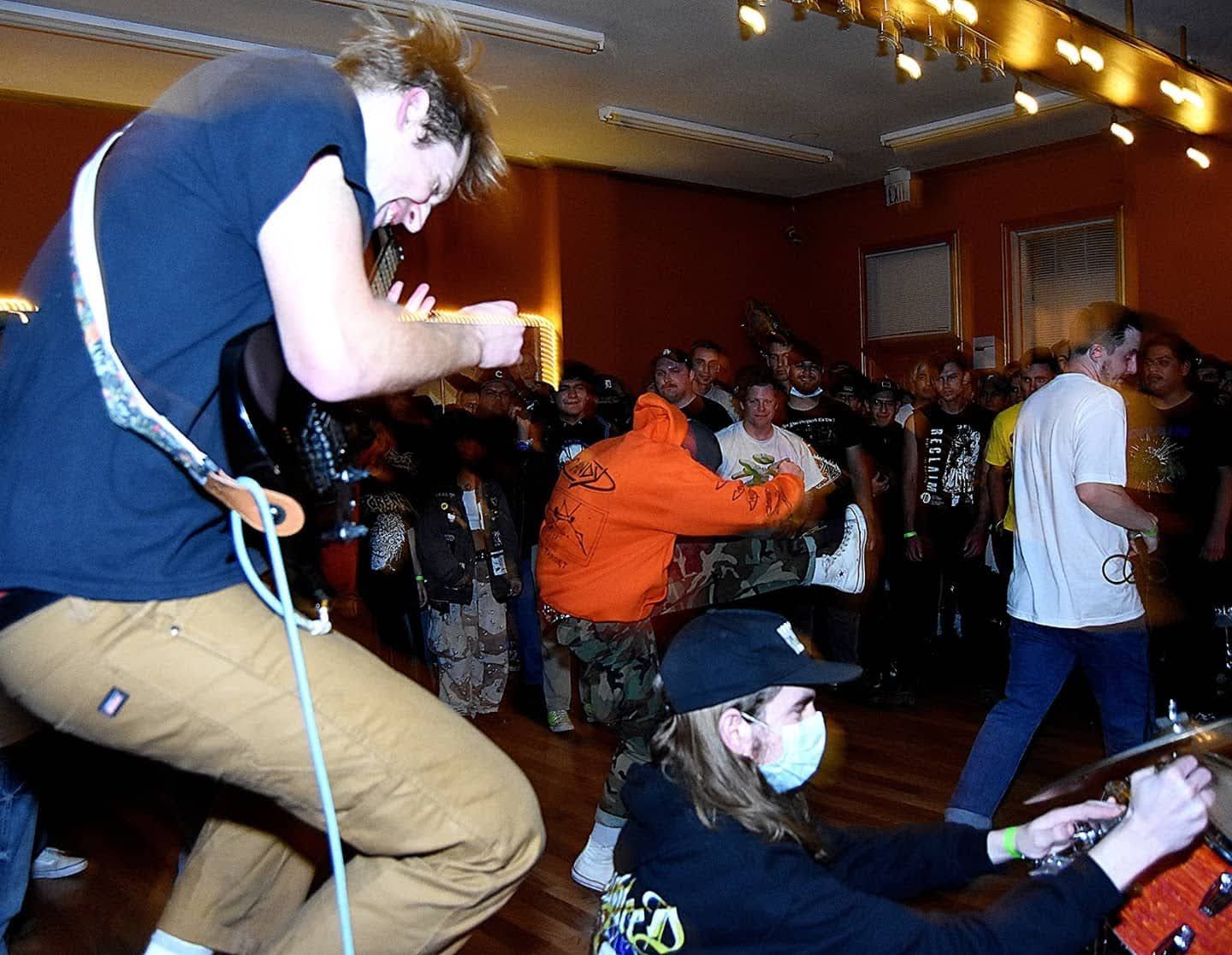 In Time photos by Raymond Camacho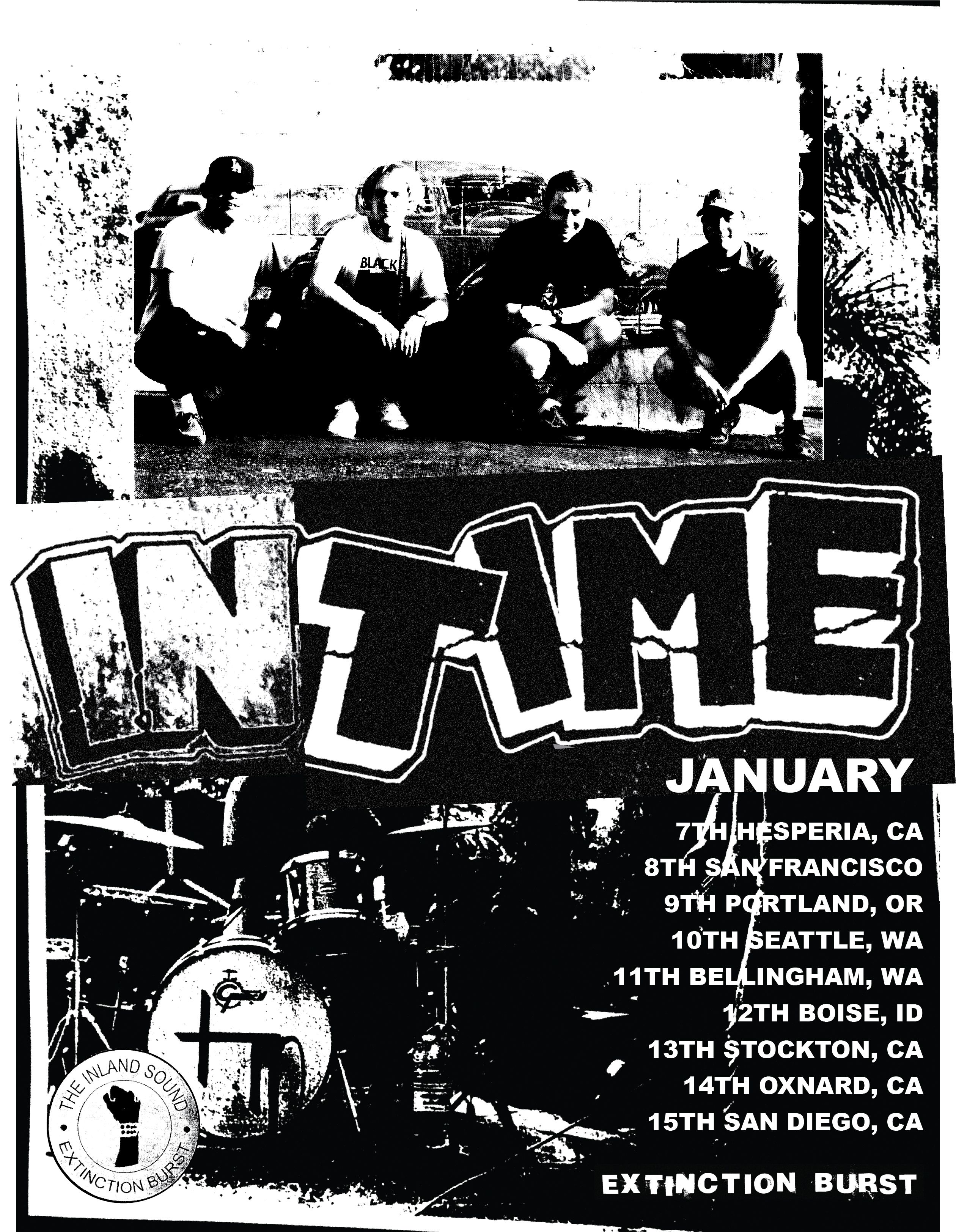 Recently, we were invited on the Powerline podcast and got to talk to Michael Doyle about the label and what the punk/hardcore community is like in the High Desert.  You can listen on Apple or Spotify
Lastly, we want to thank you for another year of support.  We really hope we were able to provide you with good quality releases! We have a lot of projects and collaborations for 2022 and we will also be vending on 1/8/2022 in Los Angeles (more news on that very soon). 
Here is just some of what we have planned!   Take care of each other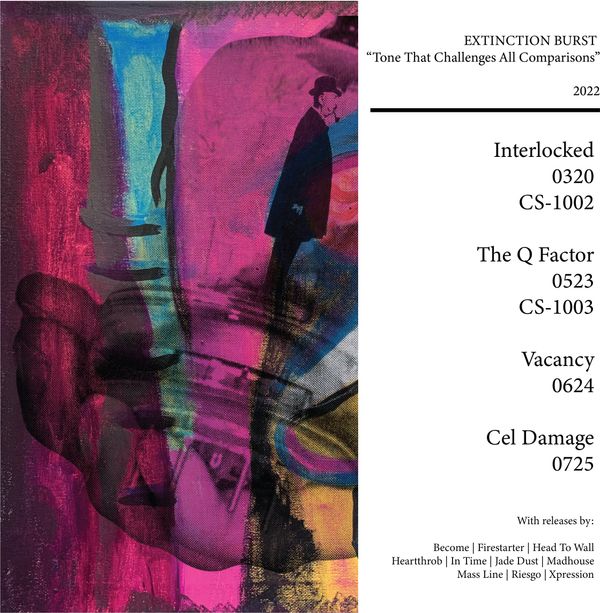 EXTINCTION BURST P.O. Box 1775 Victorville, CA 92393
Page Photographs: Connor O'Barr, Julio Chavez, Raymon Ruiz, Ron Perez
Page Videos: Julio Chavez, Taylor Soul
*If you run a radio show or a podcast and would like to play any EB releases, please get in touch